I accept no responsibility for persons building an oven using this site as a guide or reference. If you do use my site as a guide or reference for building your oven do so at your own risk.
I am not a professional oven builder or electrician and make no claims as such.
I would also like to say thanks to the guys on the forum at Caswell for all the help they gave me especially Ed. Thanks for the schematics. Link to Caswell oven forum
I got into powder coat to aviod $90.00 set up fees from the powder coater I use. When I started building I thought I should take pictures so I can share what I learned in the process.
When I first started looking into building an oven I bought the plans on Ebay how to build a powder coat oven (don't waste your money). They were not even plans just alot of BS on how the guy built his oven. (Hmmmm)
Then I contacted a place I found on the net that builds control systems they gave me an estimate of 2800.00 for the contol box and elements. That's when I started doing some serious research on how to build a oven.
This is not rocket science and if you know how to do some basic metal work and somewhat advanced wiring you can build your own oven.
Good luck and do a safe build. Feel free to send me pics of your oven and I will post them on my site.
When every thing was said and done I have about $3600.00 into this entire build. But that includes the oven, 7'x 3' x 40" blast cabinet and 4' x 8' x 7' spray booth.
Powder coat oven materials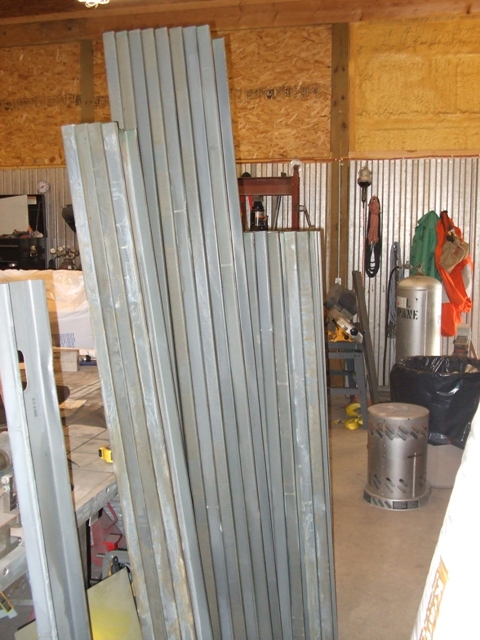 Here are the studs cut to size. I went with 2x6 16g studs because they were dirt cheap I only paid $40 for a whole pallet. Fortunatly for me there is a manufacture of steel studs only an hour away. These were scheduled to be sent to the scrap yard because they had some surface rust on them.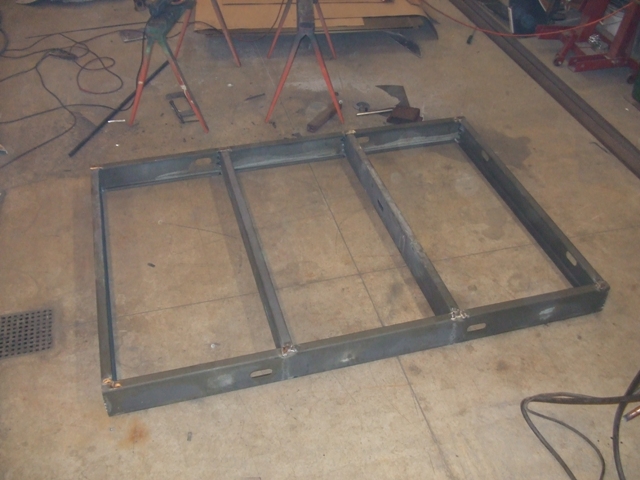 This is the the first panel. I welded it together mostly because it is the easy way out. I should have used rivits then put the sheet metal on. With the welding, things got a little warped and out of square without me noticing. If I was real smart I would have made a jig to keep every thing square. Live and learn.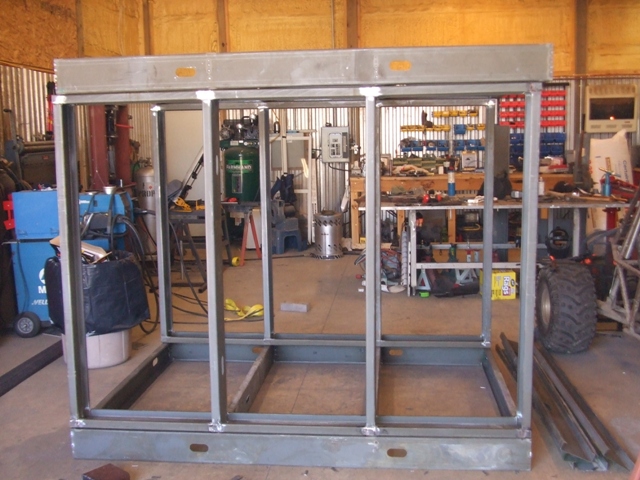 Here the four sides of the box test fit together. It seemed at this point that every thing was square and ready to put together the outside dimentions of the panels are 5' x 7'
I am sure there are different schools of thought on how to skin it with metal. How I did it was to skin each of the panels before assembly, this way I could use the sheet metal to help seal the oven. Trying to match up the corners in the oven sounded like a lot of hassle. When the panels were joined I used self tapping #14 screws.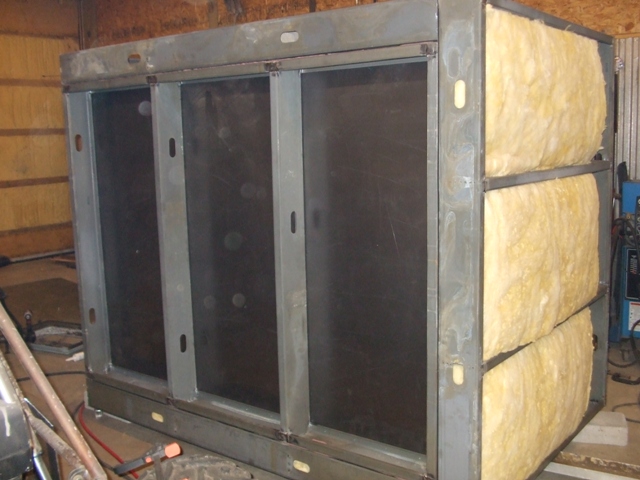 Before I put insulation on the walls I welded several 16p framing nails to the interior walls between the studs to keep the insulation in place.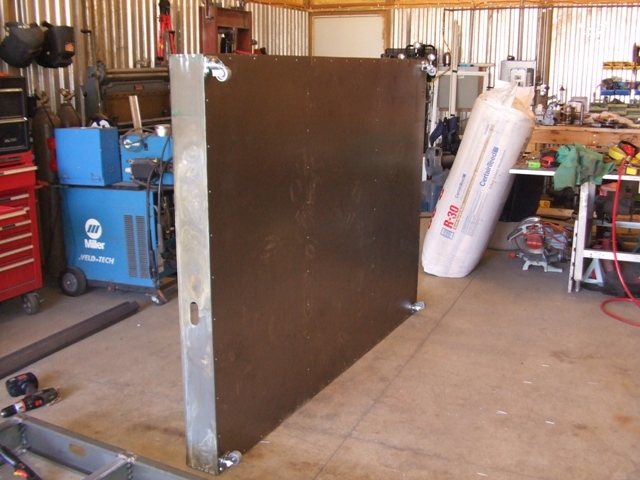 On the bottom I used 300# casters at the corners. I should have put some in the middle but I haven't had any problems so far and seems to move around nicely.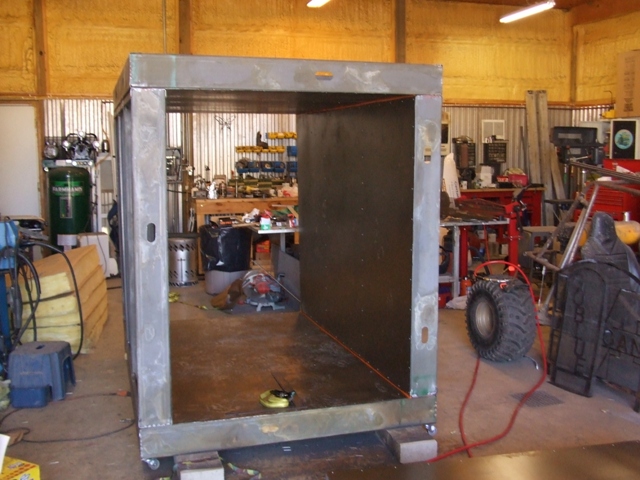 Here you can see the oven starting to tweak a little its not a camera angle, but when every thing was done I was only about 5/16 out of square and the door sags a bit, but it works and works well.
With the 4 walls put together I used about 1200 1/8 in steel rivits to attach the steel which is 20 ga cold rolled steel. (side note: I used the $39.00 Harbor Freight pneumatic rivit gun, never missed a beat) I didn't think the 20g steel would make a difference but I wish I would have used 22 ga galvinized steel as I now have a rusting problem, due to the heating and cooling of the oven.
It also takes a little long to heat up due to the thermal mass of the 20g. (not that long though-- 400 degrees f. in 20 min) not bad considering it is a 140 cf oven.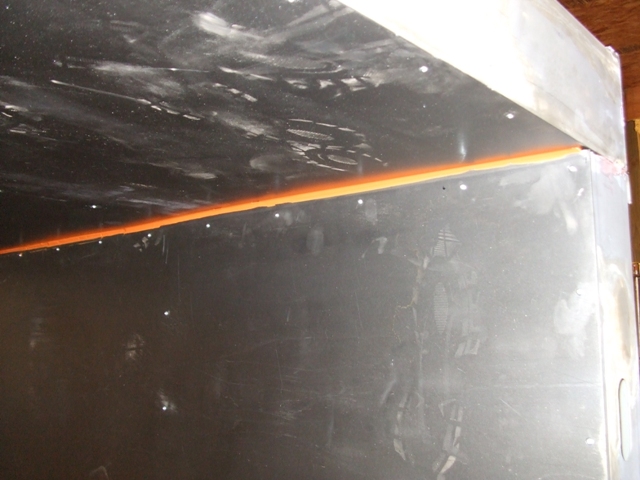 As you can see I used the high temp silicon sealer in the corners but what you can't see is the high temp caulk that is between the stud and the sheet metal. This is for extra protection against heat loss.
Also, before I buttoned up the floor I put r-30 fiberglass insulation in the floor I used r-30 because I was using 6 inch studs. Most of the builds that I have seen on the forum are using 2x4 galvanized steel studs I used 2x6 because they were dirt cheap for me.
Your probably asking yourself why not rock wool? Well, I did a test. I had a small amout of rock wool insulation and put it on a peice of sheet metal, I then took my torch and proceeded to heat the metal until it glowed cherry red. I then very carfully touched the rock wool and didn't get burnt (not that I was trying to). I did the same thing with fiberglass and same results. Hence, use fiberglass at 1/10 the cost ($128.00 for the whole oven) of rock wool. Don't get me wrong Rock wool is a better insulator and should probably be used for people who intend to do ceramics but I have no intension of doing ceramics and if I do I will probably build a different smaller oven.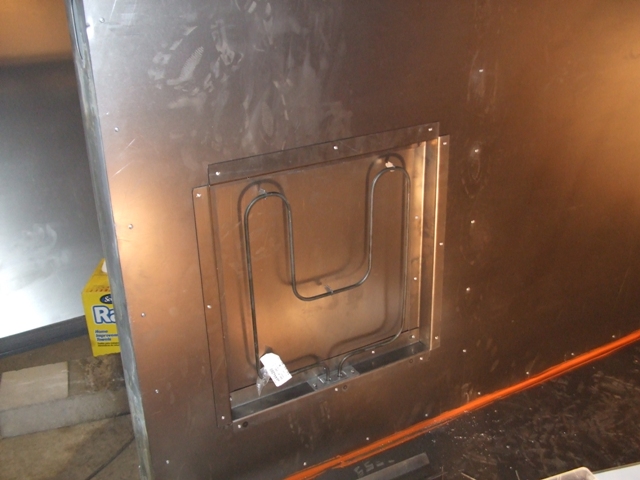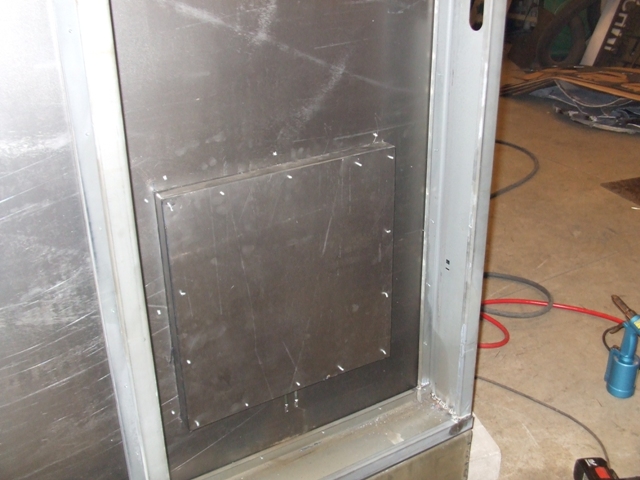 Here is the first Element I opted to inset the elements so I could maintain the inside dimensions of the oven. I used 10ga high temp wire but only as far as it took to reach the outside of the oven. Then used regular 10ga wire from there all the wires were run through 1/2 rigid conduit. The junction boxes seen below are where the splice from the high temp wire to the regular wire is. I made sure to run them low and outside to protect them from heat. I also left a gap in the bottom where you see the screws and small panels. I figured if an element goes bad it will be easy to replace.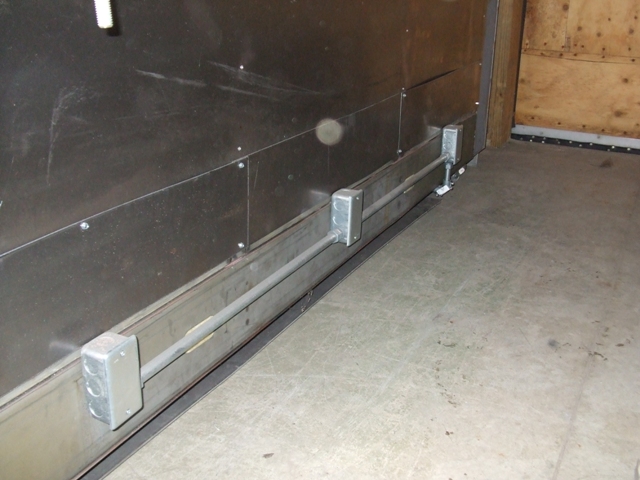 After I got the oven running I ended up putting another peice of steel behind the element with a curve at the top to deflect heat out and away from the back of the element it works very well. I also added louvers to keep direct IR heat off the powder to keep it from burning.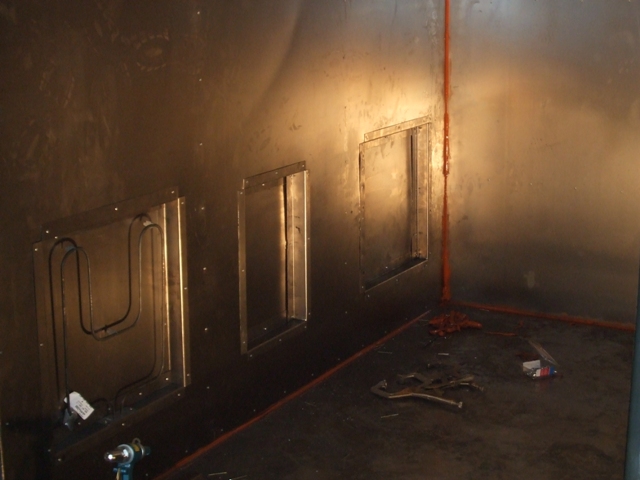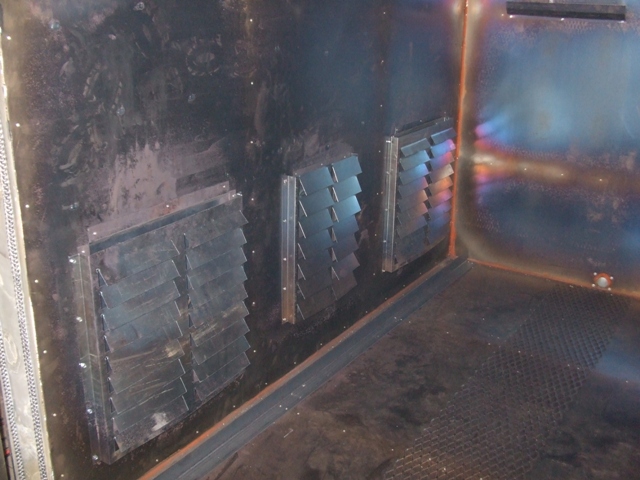 I have a total of 6 elements(about $150.00 for all 6) 3 elements on each side for a total of 16000 watts of power. The center elements I am able to switch off when it comes up to temp this way I can save a little energy.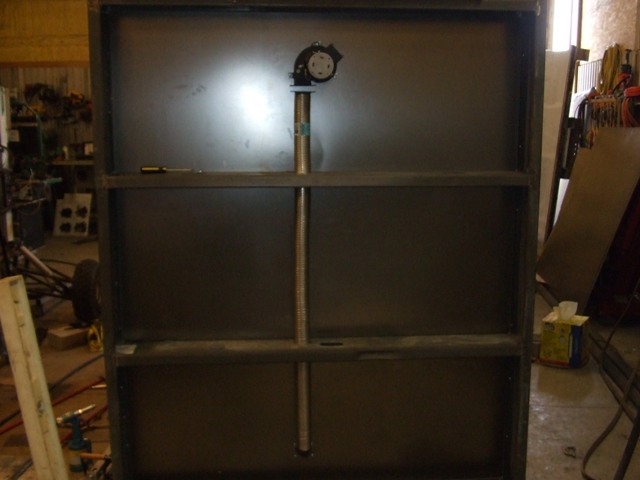 I used a Grainger high temp fan it cost about 102.00 it is 78cfm. I used flexible exhaust pipe from advanced auto ($20.00) and had a peice of tube bent at the local muffler shop (freebe) to make the 90 degree turn and welded a flange to that to mount it to the oven all the joints are sealed with high temp silicone.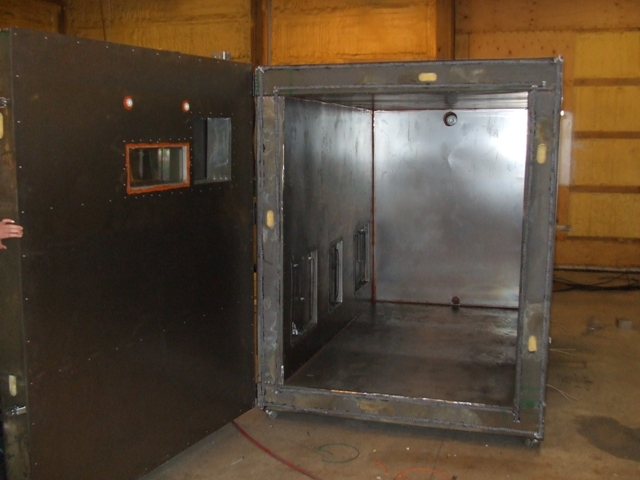 Here you see the oven almost finished. The 2 holes at the back are the fan (upper) and the outlet (lower). 3 of the elements are seen on the left of the oven. On the door the 2 white round things are the lights not yet installed. The window came from an old oven door that I found at the local appliance store that was going to be tossed. The large square opening on the side by the window is a viewing port that has a removable plug so I can shoot laser temps through. I have a double fiberglass seal on the oven for the door to seal against.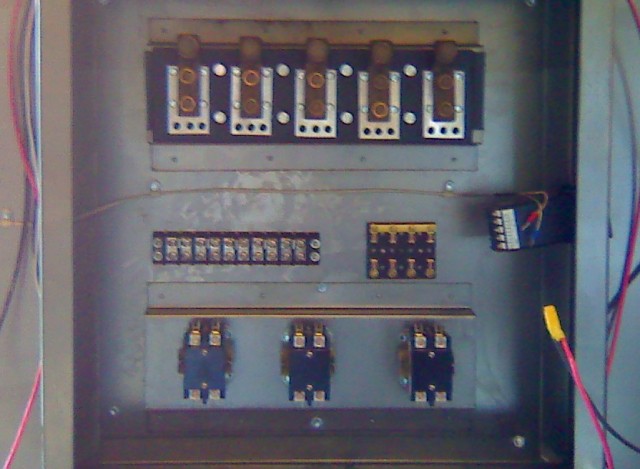 This is the control box I came up with. I built it myself with my new brake. The bus bars are from west marine. The main power coupler at the top I made from some aluminum blocks and brass blocks my buddy had lying around. I used a peice of polyethelyne plastic as an insulator behind the main power bar. The mechicanical contactors are 240 volt contactors from EBAY they were about 6.00 ea. the PID is from Auberins 44.00 www.auberins.com easy to use and set up.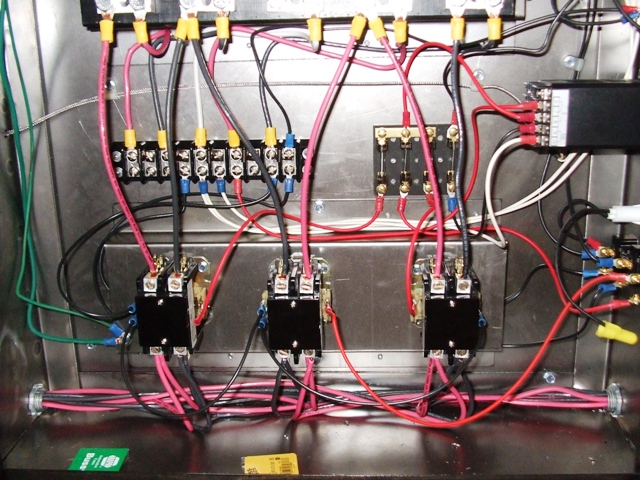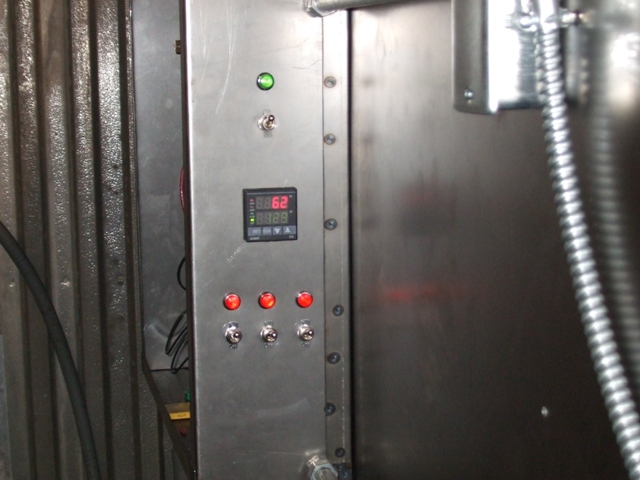 This is the completed box. I could go into detail about the wiring here but I don't want to bore anyone to death. The take away here is I had no idea how to do this before I started but with some research and help from the caswell forum was enough to get it done. There are a ton of schematics for wiring on casewell forum just find the one that will work for your application. ELECTRICTY IS INHARENTLY DANGEROUS IF YOU ARE NOT COMFORTABLE DOING ELECTRIC WORK HIRE A PROFESSIONAL.
If you are looking to buy a control box check out Teds Fabs or the Fab Shop Good prices and good customer service.
The oven takes about 67 amps of power (enough to kill you) split between 2 forty amp breakers. I had all my work checked by a qualified electrician before turning it on for the first time.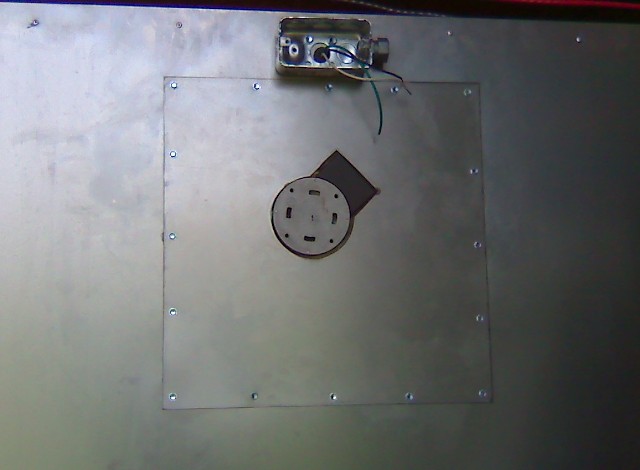 The back of the oven is where the fan is. This was a mistake to box it in, it over heated because there was no air circulating around it. I will soon open it up so it will stay cooler... And spend another 102.00 to pay for education.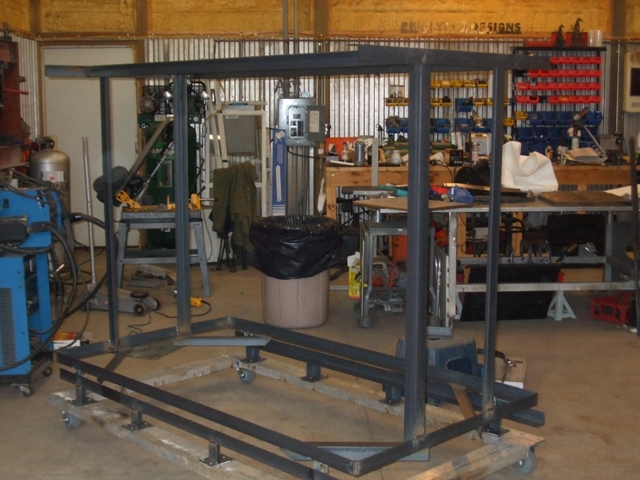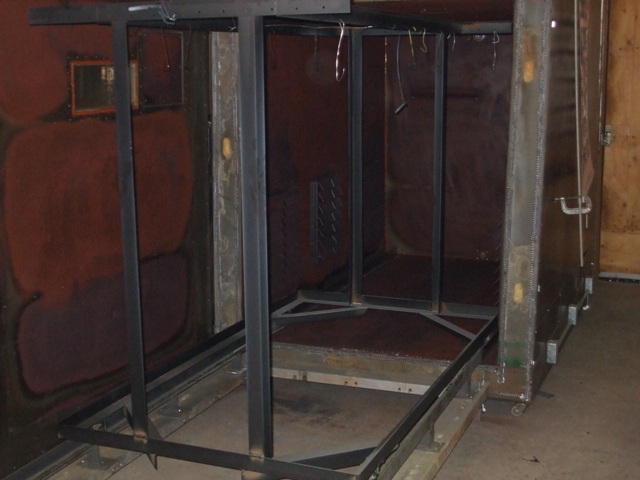 You may have noticed that the oven is about 8 inches off the gound. Here is my solution. I built a cart that has a sliding rack. The inside of the oven has 2 rails that match up to the rails on the cart. I was powder coating on the rack but I found that the electrical gound was weak and the powder was not sticking well. Now I coat on a swivel hook and transfer the peice to the cart then slide it in the oven. slick as fresh dog poo.
For those of you wondering, I actually do have way too much time on my hands.
Thanks for looking
Remember if your looking for something to powdercoat I offer a full line of custom one off plasma cut steel signs and custom one off plasma cut parts. I Use CAD not Artistic software to design all my signs and parts to ensure true dimensions of the finished parts.
Greg